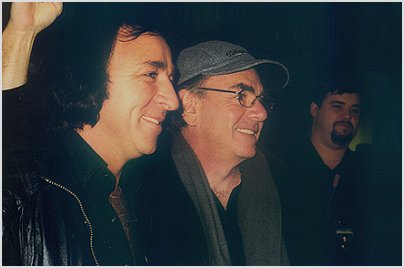 Tom Sadge, Neil Diamond, and bodyguard
Photo by Linda Pollard 12-13-99
Flash forward to late 1999. Tom Sadge, now married and the father of two, has been a full-time entertainer for over 20 years. There have been many more changes over the ensuing years: during his long career he's evolved from lead singer in a band to solo singing impressionist of Sinatra, Elvis, Engelbert, and others to, since 1997, a Neil Diamond impersonator. And so, when the news broke in October of 1999 that Neil Diamond and his band were coming to the NEPA Arena as the first act to perform there, Tom realized that a life-long dream of meeting the man who had inspired his career was a step closer to being fulfilled.