While there are not photos available of every performer who toured with Tom Sadge, Tom would like to thank each and every one, as well as the band members, background singers "Rivington Station", bus driver, crew, management and, of course, the fantastic Canadian audiences, for making the "1999 Legends Alive Tour" an unforgettable experience!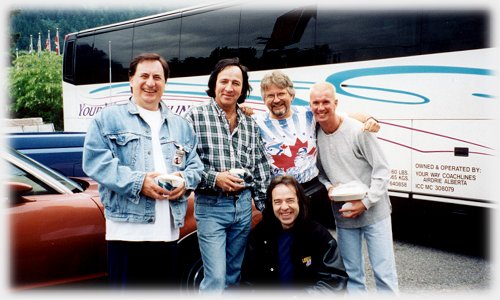 L-R: Paulie, Tom, Frank, Perry (singer from Rivington Station)
Kneeling in front is keyboardist Claude Allard

Tom Sadge Homepage
Current information on where Tom is performing, listen to him sing,
watch him perform on video, most anything you might want to know
about this versatile artist, you'll find it here.

A Really Big Shew®
Cactus Pete's Resort Casino, Jackpot, NV - Nov 28-Dec 16, 2001


Memories Theatre, Pigeon Forge, TN
My photos of the Tribute Show Elvis & Friends


Philadelphia Eagles VS Dallas Cowboys
Photos of Tom performing AMERICA at the game pre-show,
for 68,000 football fans! Nov. 5, 2000

beneath the same sun..
Photos of TOM SADGE and NEIL DIAMOND together,
and Tom with the ND Bandmembers!

Las Vegas, Nevada!
Photos of Tom with The Jordanairs and other celebrities.

1999 Legends Alive Canadian Tour Photos!
Tom brings the magic of Neil Diamond to Canada.

Contact Tom