Some become household names and, later still, legends. No one knows why these special few are chosen by the fates to rise to a stratospheric level of fame while a multitude of other, talented performers are not. It is an enigma that has puzzled agents, producers, performers and everyone else who has ever attempted to solve the mystery.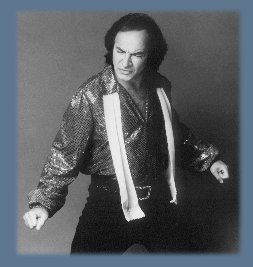 Only one thing is for sure...when the world decides as one that they love and revere an entertainer - then that person becomes one of the "chosen ones" of show business...a Legend.

Tom Sadge is not a legend, he is not a chosen one. But the fates have similarly smiled upon him. And he, in return, has smiled back at them in gratitude. Because Tom was born with the God given talent of not only a melodic voice, but with the talent of mimicry that he has honed and perfected since he discovered these two gifts at the age of ten when he did his first vocal impression as Neil Diamond singing Solitary Man.

Throughout the years Tom has practiced, perfected, and poured his heart and soul into mastering singing impressions of many of the greats. Neil Diamond was and is his favorite, but there are many others: Sinatra, Elvis, Tom Jones, Tony Bennett, Barry Manilow, Engelbert Humperdinck...the list goes on and on.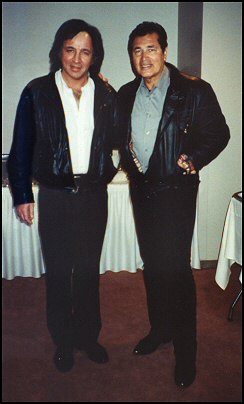 And so, on February 6th, 1999 Tom Sadge fulfilled a dream. He appeared as Neil Diamond with Engelbert Humperdinck in Toronto, Canada. The audience loved him. Some even had bets that Tom was the real Neil...using a different stage name. To successfully impersonate a legend, while appearing with another, is, as Tom will tell you, too wonderful for words. The two hours that Tom spent with Engelbert and his lovely wife, Patricia (Popea) after the show... enjoying their company... receiving many compliments on his performance from Engelbert's family and friends... was the proverbial Cherry, Cherry on top.

Take a look for yourself....